Playground Surfaces for Improved Access and Play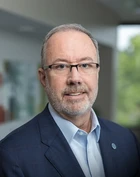 When imagining a playground, most people likely first think of a spiraling slide or a high-flying swing. Of course, play equipment is essential to a playground, but what's under that equipment is just as important.
A playground's surface is a critical component worthy of careful consideration during the design process. It's essential to understand how various surface types impact safety, accessibility, maintenance, and overall aesthetics. A playground with the wrong surface type could create an unsafe maintenance headache with barriers that exclude some children. However, some surfaces can help elevate the playground experience for kids of all abilities.

Inclusive playground at Kathleen Johnson Memorial Park - Lowell, Arkansas
Safety
Unitary surfaces, such as synthetic grass and poured-in-place rubber, are widely considered to be the safest choice because they offer a cushioned floor to lessen the impact of falls. While a cheaper option, loose-fill surfaces like engineered wood fiber do not provide the same impact rating. Additionally, unsafe objects sometimes hide below loose-fill surfaces, and it can be tempting for children to throw or chew the fill material.

Inclusive playground at Two Rivers Park - Little Rock, Arkansas
Accessibility and inclusion
Wheelchairs and strollers move with little to no restriction on rubber and synthetic grass playground surfaces. The same cannot be said for loose-fill options. While engineered wood fiber and rubber mulch meet minimum ADA standards, they do not provide the same ease of movement. Landscape mulch, sand, and pea gravel surfaces are not ADA-compliant and should not be used at public parks and playgrounds.

Inclusive playground at Mills Park - Bryant, Arkansas
Park theme and aesthetics
A playground's surface can enhance the look and feel of a park and could mean the difference between an environment that sparks play and imagination and one that's bland. Poured-in-place rubber is popular for its wide-ranging color options and custom design possibilities. It can carry out a park's theme, highlight walkways and circulation patterns, and add color vibrancy. Imagine a playground with a fishing hole theme. The rubber colors can represent water, sandbars, and even lily pads.