Driving Progress: The Interchange That Unlocked Uptown Rogers
Cow pastures not long ago spanned the hundreds of acres now considered prime real estate along I-49 in an area called Uptown Rogers in Northwest Arkansas. Development has boomed in recent years on both sides of this one-mile stretch of interstate between New Hope Road and Pauline Whitaker Parkway. This piece of the I-49 corridor is home to Mercy Hospital, The Walmart AMP, Topgolf, Embassy Suites and Rogers Convention Center, office towers, and the Pinnacle Hills Promenade shopping mall, among other commercial and residential developments.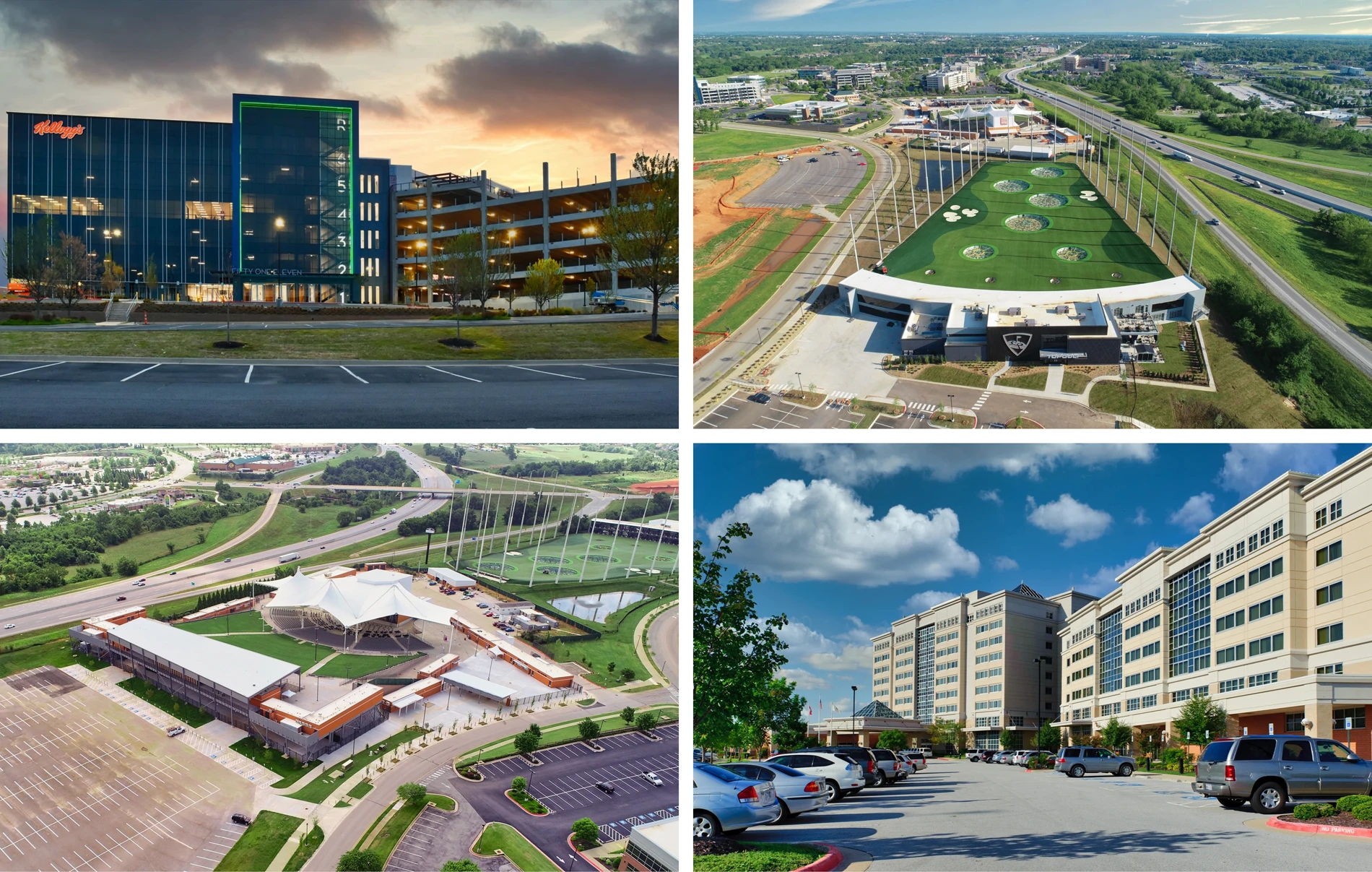 from top left: Northgate Plaza, Topgolf, The Walmart AMP, Embassy Suites
The recent announcement of professional soccer coming to Uptown Rogers adds to the region's long-sustained building boom. Located next to Pinnacle Hills Promenade, this new 5,000-seat stadium joins the lengthy list of destination developments made possible by investments in public infrastructure.
While there is no lack of buzz around this rapid transformation, the catalyst that ripened this location for development is perhaps easy to overlook. The Pauline Whitaker Parkway Interchange was the missing piece that unlocked access in 2008 and sparked this thriving district.
City of Rogers Director of Community Development John McCurdy said the city knew the interchange would be a critical catalyst for growth but said it has exceeded expectations.
"The transformation we've seen at Uptown Rogers is a testament to the power of strategic infrastructure investments."
John McCurdy
Director of Community Development
Rogers, Arkansas
In the 15 years since the interchange opened, more than $2 billion in capital investment has poured into Uptown Rogers, which city officials call "the downtown of Northwest Arkansas."
The story of the Pauline Whitaker Parkway Interchange is one of commitment and collaboration. City leaders, elected officials, Mercy Health, private landowners, and Crafton Tull worked together to plan the project, secure federal funding, and ultimately see it to completion.
Mercy Health System of Northwest Arkansas had the opportunity to build a new hospital along I-49 after the Rife family gifted 75 acres of what was a ranch. In 2002, Mercy hired Crafton Tull to perform a break-in-access study to determine the viability of a new interchange near an existing Perry Road overpass. Mercy wanted to build a new campus on the east side of I-49 near the New Hope Road interchange, but it required additional access to the interstate for emergency vehicles.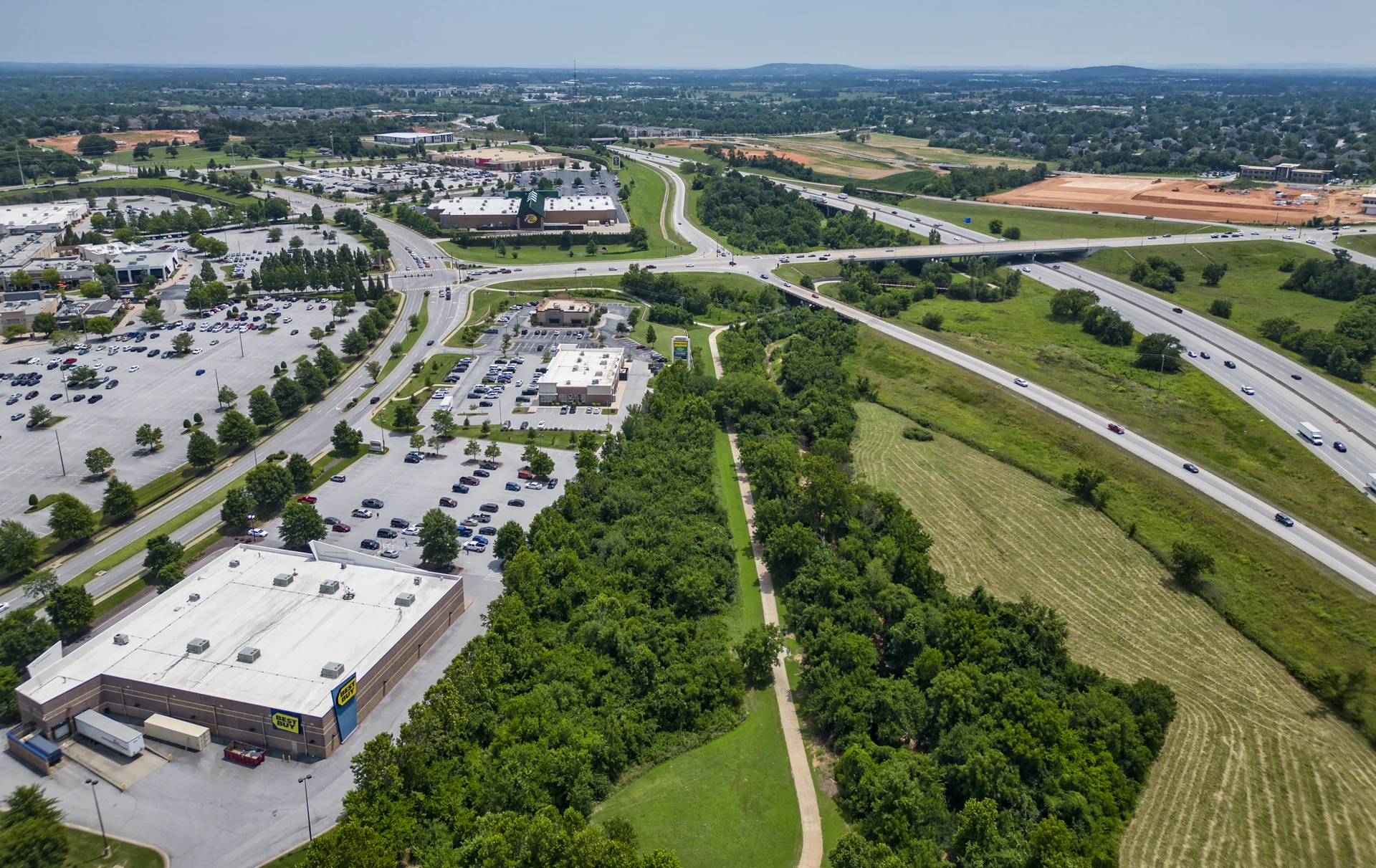 Pinnacle Hills Promenade and the Pauline Whitaker interchange
A new interchange would bring a substantial healthcare investment into the region, so local public officials and business leaders worked to secure federal funding. Sen. John Boozman, a U.S. congressman at the time, and Rep. Steve Womack, then the mayor of Rogers, built consensus around the need for public investment in the project.
"Through collaboration with state, local, and federal officials, we yield the most effective use of taxpayer funds to directly impact economic growth in our community," said Congressman Womack.
ARDOT and the Federal Highway Administration approved the study, and the city of Rogers selected Crafton Tull to complete the detailed engineering design of the interchange. The design included a new six-lane bridge over the interstate and Blossom Way Creek. A provision for land to construct a future trail under the interchange bridges made way for what is now a section of the Razorback Greenway Trail.
In addition to the interchange, both the city of Rogers and private land developers constructed streets east and west of the interstate, along with public utility extensions and drainage improvements.
Construction began in 2006, and the interchange and the new Mercy medical campus opened two years later. What followed was a string of region-defining developments in rapid succession. Target, Bass Pro Shops, The Walmart Amp, Hunt Tower, and Topgolf were all built within a 10-year timespan. Other office, retail, lodging, dining, and residential developments have followed in the years since.
Tom Allen, President of Cushman & Wakefield | Sage Partners who exclusively represents Hunt Ventures in their real estate endeavors, has a front seat to much of the development of Uptown Rogers. He noted "This area has benefitted from the public-private partnerships of local, state, and federal governments investing and working side by side with developers such as Hunt Ventures and others that have resulted in an extremely desirable area for people to live, work and play."
Projects like the Pauline Whitaker Parkway Interchange are only possible when government and business leaders work together toward a bold vision. Crafton Tull civil engineers often work as the intermediaries between these entities, identifying needs, coordinating between agencies, and designing the project. These projects require substantial public investment and often take years to plan and implement, but the rewards can far outweigh the cost in the long run.
Crafton Tull projects in the Uptown Rogers area