Community
Parks + Recreation
Infrastructure
All Categories
Community
Parks + Recreation
Infrastructure
A community's capacity to prevent, respond to, and recover quickly from disruptions is referred to as resilience. At its most basic, resilience is simply the ability to get back in the game after suffering a hard blow.
Many communities are facing new or intensifying weather-related risks such as:
Extreme Temperatures
Floods
Storms
High Winds
Wildfires
Water Stress
Drought
Every community is unique, with its own character, ideas, and distinct values. Enhancing the resiliency of a community begins with assessing hazards and vulnerabilities of all kinds, investigating and prioritizing options for addressing those vulnerabilities, and building a plan the community embraces and takes action to implement. Having a plan allows a community to achieve a holistic approach that creates true resilience. Having a plan also supports fundraising efforts by focusing efforts on defined projects with established goals.
Through careful planning and design, communities can reduce all kinds of risks. A resilient city has a diverse economic base that is not overly dependent on any single employer or source of income. If a single tornado can destroy a city's entire sales tax base, then the city is already vulnerable. Adopting development codes that encourage mixed-use development disperses points of sale and helps mitigate that risk.
Avoiding development in high-risk areas such as areas prone to:
Flooding
Landslides
Wildfires
Other Natural Events
Raised Crosswalks Can Elevate Pedestrian Safety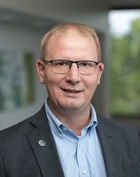 Pedestrian safety isn't just a buzz phrase, it's an essential part of any road design. Safely crossing a local street or roadway is one of the most important parts of a municipal project. Although traditional crosswalks serve their purpose, a raised crosswalk or speed table can be a great, aesthetically pleasing option to further ensure pedestrian safety.
Raised crosswalks are ramped crossings with a flat top, spanning the entire width of the roadway. What makes these pedestrian crossings unique is that they are the same height as the sidewalk, meaning that pedestrians can make a smooth transition from the sidewalk to crossing the roadway. Since vehicles encounter an incline as they approach the crosswalk, the pedestrian is more prominent in the driver's vision.
These crosswalks send a somewhat subtle message to both drivers and pedestrians that pedestrians have priority in this particular space. Using this design technique places a higher value on protecting pedestrian traffic. By design, these crosswalks serve as a traffic-calming measure and can decrease pedestrian crashes by as much as 45%. Some pedestrian crossings that utilize speed tables also include HAWK signals or Rectangular Rapid Flashing Beacons (RRFB) to ensure pedestrian safety if the foot traffic volume warrants hand-activated signalization.
Solving the Mystery of Underground Utilities
There is an unseen, but avoidable, cost in construction and development. Underground utilities hide below the surface of right-of-ways, run under roadways, and thread their way between buildings in highly developed areas.
Most municipal infrastructure projects start with utilities. Utilities create the roadmap for services that keep a city ticking. Gas lines, water mains, and gravity-fed sanitary sewer are interspersed with electrical lines, and, closer to the surface, cable or fiber internet. All of these utility lines can create a complicated matrix of underground obstacles to deal with.